Eco-Friendly Celebrations for Nature Lovers
Download Audio Version
There are many ways to make your dinner or party an eco-friendly one. Whether it is a birthday party, anniversary, or getting together with family or friends, there are ways to green your celebration.
Greening Your Dinner Party
You can use Evite or another service to send online invitations instead of buying paper ones. Of course, grocery shopping and preparation are important. If some of your guests are vegetarian, vegan, or have lactose intolerance, you should take this into account. Buy products from butchers and retailers that offer meat from pasture-fed and humanely raised animals. Opt for locally grown fruits and vegetables and seasonal produce. You can use organic mixes for cocktail drinks. Liquors and other drinks are packed with preservatives, chemicals, and empty calories. Some people choose to experiment and create organic mixes with lime, lemon, cucumber, mint, and oranges.
When it comes to the actual menu, there are plenty of eco-friendly recipes.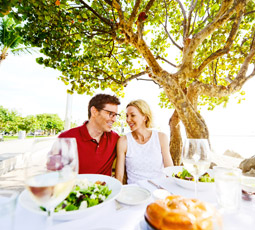 If your guests are vegan, you can prepare guac and salsa, tofu scramble, soba noodles with peanut sauce, or grilled vegetables. For meat eaters, you can cook Bunya nut meatloaf, pork chops with mashed potatoes, and so on. Buy meat produced under Community Supported Agriculture programs to reduce your carbon print and show support for local ranchers and farmers. Always check whether the products you buy meet grass-fed standards. If your guests love seafood, you can offer farmed lobsters. They actually help sustain the balance on our planet because lobsters filter water. Another option is to offer shrimp but check whether the manufacturers use eco-friendly nets that are safe for other species like fishes and sea turtles.
Linen and Decorations
Use napkins and tablecloths that can be washed instead of plastic tablecloths and paper serviettes. When offered disposable napkins, people use more (which is a waste of paper). Cloth napkins can be used multiple times and add a modern and elegant touch to your table setting. While paper plates and cups are convenient, they are non-biodegradable and pollute the environment. It is better to use your glassware and plates instead. If you plan a family reunion, you probably don't have enough glasses and plates for 50 – 100 guests. One option is to rent them.
You can also use LED votive candles instead of regular ones. They are great for outdoor celebrations. As an added benefit, they use batteries and are affordable. Another option is to use sustainable candles from soy or beeswax. You can choose from a large selection of options such as aromatherapy pillars, tea lights, beeswax Buddhas, orange and cinnamon candles, rosemary candles, and others. Opt for candles with air cleansing and antibacterial properties that are packed in recycled containers. Avoid items with synthetic scents and fragrances and toxic chemicals. Organic candles are a good choice if you are looking for cruelty-free, lead-free, and dye-free products that are biodegradable.
You can decorate the centerpiece yourself to show your unique sense of style. To this, you can use fruits, vegetables, flowers, candles, etc. If you are into food carving, this is a good way to show how creative you are.
Cleaning up
Most of us are tempted to go to bed when the guests are gone, but the mess will still be there on the next day. You will have a clean table, dining room, and kitchen when you wake up. Make sure you use green detergents, soaps, and cleaning supplies, however. You can also make organic solutions by yourself. DIY products are a good alternative to cleaning solutions that include harmful chemicals which can irritate the lungs, skin, and eyes. They release toxic fumes that contribute to poor air quality. Pets, children, and babies are at most risk. Instead, you can use agents such as lemon juice, borax, baking soda, and others.
Composting and recycling are good ways to get rid of leftovers. Use biodegradable paper to wrap up any leftovers you plan to use on the next day. Separate plastic from empty alcohol bottles and throw them in the recycling bin. If you have a bottle of unfinished wine, you may want to stopper it.
Related Articles
Eco-friendly Restaurants for Green Dining
Eco-friendly restaurants offer sustainable food and have onsite water purification systems, organic gardens, and solar-powered technologies. They use biodegradable products, including straws, containers, and utensils and produce sausages, jams, vinegars, and wine in-house. This is a good way to...
Growing Organic Produce Packed with Essential Nutrients
There are many arguments in favor of organic fruits and vegetables, and the main ones are more nutrients and fewer herbicides and pesticides. A study conducted by researchers at Newcastle University reveals that organic crops contain up to 40 percent higher levels of iron, zinc, vitamin C, and...
Compost for Superb Soil Quality and High Yields
Composting offers plenty of benefits for the environment in that it reduces the impact of air, land, and water pollution. Biodegradable waste is decomposed and used to improve soil quality. This contributes to plant growth because important nutrients are added to the soil. Compost is a natural soil...
5 Tips to Recycle at Home and Save Valuable Resources
Recycling at home is a great way to reduce organic and other waste and show concern for the environment. There are simple solutions and recycling systems that can be installed in your house. Some people use dumpster-style bins and collect unbroken glass, plastics, cans, and papers. Others choose to...