Eco Friendly Paints to Reduce Your Carbon Footprint
Download Audio Version
Eco friendly paints and organic varnishes contain no harmful chemicals, added solvents, and compounds. They are a safer alternative to mass-produce paints and come in a large variety of colors, offering good coverage. Featuring the whole gamut of vibrant tones, eco paints are durable and produce excellent results.
Pigments and Formulas
Water-based formulas contain organic ingredients such as linseed oil, lime putty, and china clay, as well as pigments. Unlike other paints, they don't contain formaldehyde, ammonia, and other harmful compounds. Manufacturers advertise their products as odorless and non-flammable. They are safe for kids, pets, and people with allergies. Moreover, green paints are safe for the environment because they are biodegradable and meet strict environmental regulations and criteria. They are a preferred choice of many homeowners because manufacturers use ingredients such as mineral pigments, marble, clay, and plant resins. There is a large selection of shades to choose from, and many manufacturers offer over 60 colors.
Differences Between Green and Conventional Paints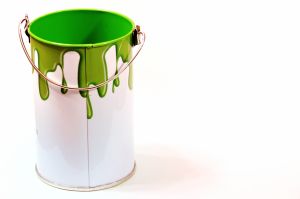 Normal paints contain ingredients such as drying accelerators, biocides, hardeners, and adhesives. Biocides, for example, are chemicals that are used to deter harmful and toxic microorganisms. They are added to paints to increase their shelf life and keep microorganisms from ruining the coat. There are also plasticizers, airborne compounds, and other particles that create an unhealthy indoor atmosphere. Volatile compounds in paint are responsible for a number of diseases, including liver problems, headache, pulmonary diseases, and others. Green paints, on the other hand, contain a small amount of volatile compounds. They are free of harmful biocides, plasticizers, vinyl, and other toxic ingredients. Another difference is that many eco paints come with a recycled packaging. Customers also enjoy a lifetime guarantee.
Paints vs. Stains
Paints are a better alternative than stains because of their ingredients. Stains contain large amounts of volatile organic compounds, fungicides, and biocides. If you want to use stains, it is best to choose water-based formulas as well as products that contain carnauba wax and beeswax. Sealants with no added dryers and biocides are also a good choice. Oil-based stains with added dryers and other chemicals should be avoided, especially in households with small children.
Types of Eco Friendly Paints
Paints fall in two main categories – exterior and interior. There are no green paints for exterior walls and surfaces, and all products contain fungicides. You can choose from products with different fungicides. Formulas that contain zinc oxide are the best choice while products with a high concentration of volatile compounds should be avoided. If you can't find paints with zinc oxide, you can opt for recycled water-based formulas or latex and acrylic coats. Never buy or use paints that have been stored for an extended period of time. Paint in old cans often has harmful chemicals such as lead and mercury.
There are eco formulas for your home's interior. They often contain minerals, balsam, citrus extracts, and other substances. While green paints are free of fungicides and biocides, they contain terpenes. Terpenes are produced by different plant and animal species, including butterflies, termites, conifers, and others. They are an active ingredient of many flower and plant oils.
There are different types of interior eco formulas, including recycled, latex, and milk coating. Recycled latex paints are the least desirable option because they contain volatile compounds. At the same time, they are free of lead and mercury. Latex and milk paints are better options for families with children. Latex formulas contain low amounts of volatile compounds, fungicides, and biocides. They are a better alternative than oil-based formulas. Milk paints contain lime and casein, which is a phosphoprotein or milk protein. It is a great choice for interiors.
As a rule, zero and low VOC formulas contain no acetone, ammonia, formaldehyde, and other harmful substances. They are offered online and at specialty retailers. Some manufacturers even advertise Ayurveda paints that inspire and stimulate the energies or doshas. They offer ecologically-friendly, toxin-free paints. Food-grade ingredients are also used to manufacture finishes and paints, including phosphoproteins.
Homemade Paints
This may come as a surprise, but you can make your own paints at home. There are recipes for homemade dyes, paints, and stains that contain no pesticides and VOCs. You will need whole milk, a liquid or powder type of pigment, and hydrated lime. Mix water with 2 cups of lime and stir until the mixture thickens. Add water gradually. Mix pigment with milk and stir well. Then add the mixture to the water and lime paste. You can choose from different types of pigments, depending on the color you want to achieve. Note that store-bought pigments are brighter than homemade ones. Pigments are sold in artist supply and hardware stores. Ask whether the pigment contains cobalt, mercury, lead, and other toxic chemicals.
Related Articles
Eco Friendly Building Materials for Sustainable Living
Eco friendly building materials help minimize damage to the environment. They pose no risks for human health and allow residents to use non-renewable resources more efficiently. Advantages for HomeownersAmong the many advantages for residents is that houses which incorporate eco materials require...