Green Landscaping for Insulation, Water Conservation, and Healthy Garden
Download Audio Version
Green landscaping offers many benefits for homeowners and the environment. This is a way to take good care of your lawn, backyard, or garden without using hazardous or toxic substances. These techniques save money and energy and promote sustainable living.
Techniques to Use
There are different eco-friendly landscaping methods such as using solar power, snow control, and shading. Other methods are the use of green materials and windbreaks. Shading is a smart technique that involves planting trees to provide shade in summer and spring. This is a great idea for homeowners who live in warm climates and makes homes energy-efficient. Heat is absorbed through glass doors, windows, and other structural elements and increases the cost of cooling during the summer. Trees provide shading and lower the indoor temperature by up to 5°C. In order to get the most out of this technique, homeowners may want to consider factors such as the location, shape, and size of the shadow. The microclimate in the area is an important factor. Deciduous trees are ideal for reducing indoor temperature and blocking heat. There are many options depending on the climate, from paper bark and trident maple to tulip tree, Chinese cedar, ornamental pear, and Judas tree.
Landscaping windbreaks are another green technique for environmentally conscious homeowners. They help further reduce indoor temperature and save on heating costs during the summer. In the ideal case, windbreaks are made of shrubs, bushes, and other evergreen plants and trees.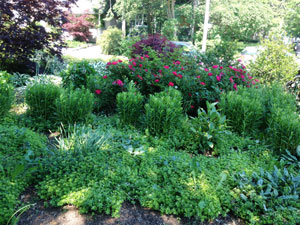 Another way to insulate your home is to plant vines, bushes, and shrubs around the house. Windbreaks also help protect homes during the winter by reducing the wind chill and speed. Plants with low crowns are ideal for this purpose. It is best to plant them to the northwest and north of the house. Dense shrubs and other plants are a great choice. They can be combined with raised soil, manmade walls, earth berm, or other structural elements. Shrubs are also used to trap snow and improve insulation.
Other Landscaping Techniques
Water conservation and using green materials are also methods to reduce your energy bill and the negative impact of greenhouse gas emissions. There is a large selection of eco-friendly materials such as wood, stone, and bricks. Choose bricks that are manufactured in gas-fueled kilns because they cause less pollution. Water conservation is yet another way to show your concern for the environment. This technique involves planning and responsible irrigation. Evapotranspiration is a term that refers to the sum of transpiration and evaporation. Homeowners can use this rate to calculate how much water they need to supply through irrigation. The easiest way to find the rate is to contact the water district in your area. The climate conditions are one factor that affects the Et rate in your area. There are different ways to conserve water, from improving the quality of the soil to using less bluegrass turf and plants that require heavy watering. Choosing plants and trees that are suitable for your area and climate and have similar water requirements also helps. Mulches are beneficial in that they minimize weed growth and water evaporation. Pest control, pruning, weeding, and other gardening techniques are also part of the green arsenal.
Green Weed Products
Eco-friendly weed killers are used instead of herbicides that contain toxic chemicals. In fact, prevention is more important than treating weeds with products. Healthy plants, grass, and trees are capable of outgrowing weeds. The growth of weeds is an indicator of soil deficiency or another problem. Organic herbicides are also part of the solution. They contain non-harmful substances such as acetic and citric acid, clove oil, and others. They are safe for the environment, pets, small children, and other family members. Choose products that are good for your flowers, shrubs, trees, and the soil. Another option is to make green herbicides by yourself. You can use a solution made from soap, salt, and vinegar.
Water Saving Flowers
To conserve water, homeowners can choose from different water saving plants and flowers. The choice of such plants helps reduce maintenance and the amount of water used for irrigation. Sage, evening primrose, and milkweed require less maintenance. Other examples are Shasta dairies, sedums, peony, and daylilies. You can also plant flowers like hens, snow-in-summer, and black-eyed Susan. They are bright-colored, beautiful, and attract butterflies. In general, water-efficient landscaping offers many benefits such as fewer grass trimmings, reduced energy use, and less extensive use of natural resources. There are social, environmental, and economic benefits. Different techniques are used, including adequate irrigation schedules, planting native flowers and shrubs, and using cost-effective and efficient irrigation systems.
Related Articles
Livable Co-housing Communities for Green Living
There are different types of co-housing communities that are designed for green living. Some communities have a common house for dining and social activities. But regardless of the arrangement, they have become popular in the U.S. and many countries around Europe. Communities are found in Germany,...
Organic Techniques for Sustainable Urban Gardening
Urban gardening is the practice of planting and growing organic fruits and vegetables in a city or town. There are many benefits for homeowners, including healthy food, improved energy efficiency, and less carbon dioxide emissions. Various organic techniques are used, with plants grown in the...
Compost for Superb Soil Quality and High Yields
Composting offers plenty of benefits for the environment in that it reduces the impact of air, land, and water pollution. Biodegradable waste is decomposed and used to improve soil quality. This contributes to plant growth because important nutrients are added to the soil. Compost is a natural soil...