Solar-powered Watches, iPhones, and Other Devices
Download Audio Version
There is a wide array of solar-powered devices, from mirrors and fans to pumps, fridges, and chimneys. Manufacturers also offer high-tech gadgets such as iPhones and watches. Many companies are looking for new ways to create wearable, smarter, and lightweight technologies with functional designs. Wearable gadgets have grown in popularity.
Solar-powered iPhones and Watches
Apple is already working on devices with wireless charging technologies and sun-charged batteries. New methods such as magnetic induction have been tested. The new iWatch will come with innovative features such as a curved glass screen and kinetic charging. Seiko already offers watches with self-recharging batteries. The first solar watch was offered on the market in 1977. The obvious benefit for users is that the battery never drains. Different retailers offer women's and men's solar-powered watches.
The new iPhone could incorporate features such as a sapphire glass display and solar cells. Sapphire glass is more durable than other types of glass and is hence more expensive. It is mainly used for the production of medical, military, and aerospace devices and technologies. Curved displays are also used for improved functionality, innovative designs, and added durability.
Other Devices
There are many sun-powered devices for indoor and outdoor use. The list of devices and gadgets and technologies includes: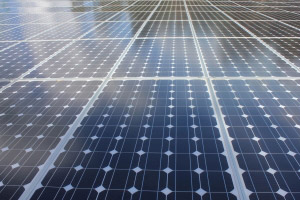 Bikes
Wii
Aircraft
Security cameras
Bricks
Lighting
Chronometers
Cases
Tablet covers
Torches
Personal cameras
Portable chargers
Smartphone accessories
Eco computers
In addition to innovative devices, manufacturers also offer charger kits, flashlights, gadget boosters, energy storage devices, and pocket-sized energy sources. Retailers feature computers, keyboards, sound systems, and other devices. Chargers come with different features such as water-resistant construction, built-in blocking diodes, and others. There are keyboards that are powered by indoor and outdoor light and feature ultra-thin design, Bluetooth technology, and low-profile keys. Other features include special function keys and an aluminum enclosure.
Sun-powered water bottles are also offered and come complete with a battery pack, solar panel, and LED light. The panel is waterproof, and the wide opening allows for easy mixing, cleaning, storing, and drinking. The main downside is that it is heavier than standard bottles. In any case, it is a good addition to your backpacking gear. Other solar devices and structures include inverters, furnaces, dryers, and compacting trash cans. Manufacturers also offer refrigerators, calculators, lasers, desalination units, and other technologies. There are even trees and ponds. A solar tree is a work of art.
Flashlights
Some gadgets combine different functionalities. For example, there are LED flashlights with a phone charger and a radio. This gadget is ideal for outdoor activities such hunting, fishing, camping, and hiking. Added extras include an altimeter, barometer, chronograph, compass, and digital display. Flashlights also come with functionalities such as time and date display, carabineer, digital clock, bottle opener, and others. A monocrystalline solar panel is used to charge the device. Solar charging kits are also offered and can be used everywhere – in you RV, car, cabin, cottage, hotel room, at home, etc. The solar panel is made from glass and silicon. The kit also comes with a controller, connection cable, PV mounting frame, and inverter. Lightweight and waterproof dynamo flashlights are also available.
Solar Cookers
Sun-powered cookers have become popular among environmentally-conscious consumers. They are easy to use, portable, and functional. Cookers come with added features such as an oven mitt, cooking pans, and booster panels. Extras also include double rubber seals, double paned windows, a clamshell designed suitcase, and oven thermometer. There are different types of solar cookers and ovens, including panel, parabolic, and box ovens.
Hybrid Devices and Public Chargers
Some retailers also offer chargers for iPad, iPhone, and iPod, featuring an external battery pack. The good news is that an USB port, electrical outlet, and sunlight can be used to charge to device. It comes complete with a built in LED lamp, lithium battery, and monocrystalline solar cell. Fold out and small portable models are offered by retailers. There are public solar chargers in public places, including streets, squares, and parks. They can be used free of charge. This is a low-cost power source that can be used outdoors.
Related Articles
Green Cutting-Edge Inventions and Eco-Trends
Manufacturers offer plenty of green inventions and gear for energy savings and added comfort. Some inventions are bizarre while others are quite handy, whether at home or for outdoor use.Strange and Unique Inventions There are strange, but practical inventions such as a machine that uses...
Eco-friendly Smartphones and Laptops for a Greener Future
Eco-friendly devices offer plenty of benefits such as energy efficiency and conservation and low environmental impact. Smartphones come with features such as solar chargers, a wide selection of apps that reduce the need for peripheral devices, and a lot more. Eco-friendly laptops consume less...
Solar Panels Generate Electricity and Power Devices
Solar panels are devices that transform sunlight into energy for heating, cooking, washing, and other uses. As long as there is a sufficient amount of light, these devices can generate electricity and power for household and commercial appliances. Installing Photovoltaics The decision to install...