Arrangements and Ideas for an Eco-Friendly Wedding
Download Audio Version
Eco-friendly weddings are popular in the Western countries and other parts of the world. This is a way to minimize the impact this event has on the environment. Green weddings offer economic, social, and environmental benefits in that many couples save money and minimize pollution, waste, and emissions. With conventional weddings, couples buy beauty products that contain toxic chemicals, chemically-treated flowers, single-use suits and wedding dresses, and more. There are many ways to reduce waste and organize an eco-friendly wedding.
Wedding Flowers
You may want to order certified, locally grown, seasonal flowers. Flowers that are grown abroad or out of season are often treated with pesticides, herbicides, and other chemicals to eliminate insects. What is more, shipping contributes to pollution. Exotic flowers are usually shipped from abroad, but this depends on where you live (the climate and weather conditions).
Food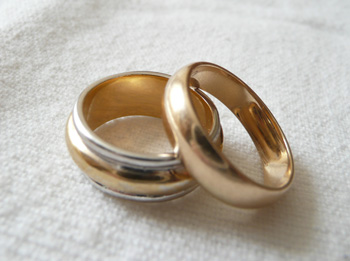 Obviously, non-organic vegetables are treated with pesticides while meat may contain progesterone, testosterone, and other growth hormones. The cooking method is also important. Chemicals such as polycyclic aromatic hydrocarbons and heterocyclic amines form when poultry, fish, pork, and beef are prepared at high temperatures. There are many ways to make sure that your wedding food is eco-friendly. For example, you can order spuds, lettuce wraps, or spoon appetizers. Stuffed potatoes are a good choice – you can choose from different toppings, including cheese, bacon, chives, sour cream, butter, and others (or a combination of two or more). Another option is to use the services of a catering company. Some companies offer microbiotic, vegan, and vegetarian menus while others feature fish and meat dishes. Couples are free to choose from a selection of meals and menus, including fresh seedling rolls, cheese plates, samosas, wheat-free brownies, and more. Catering companies offer a selection of desserts, entrees, salads, soups, plates and platters, and hors d'oeuvre platters. Catering services use products such as chipotle marinated tomatoes, black beans, sweet corn, cashew cheese, tofu queso fresco, and others. If you are looking for a green catering company, caterers that offer local, organic food and many veggie options are a good choice. The good news is that many catering companies offer a choice between a buffet and a full wedding service to suit any budget, style, and preferences. It is up to the couple to decide how much to spend on catering and fresh, local ingredients or exotic foods.
Invitations
Paper is used for thank you cards, seating and menu cards, seating programs, RSVP cards, invitations, and others. One way to green your wedding is to use recycled paper. There are other materials and options to choose from, for example, electronic invitations and cards and programs printed on tree-free paper, waste paper, and post-consumer paper. You can also use soy inks. If you have a website, you can use it to announce important details such as directions, maps, menus, seating, and so on. Another option is to order a single-page invitation and print all details.
Photography and Other Arrangements
There are paperless options to store your wedding photos. You can view your photos online and then decide which ones to print. The good news is that many photographers are going green and use recycled materials, waste paper, and safe inks that are free of toxic materials. When it comes to gifts, there are many eco-friendly ideas to choose from, for example, gifts that are offered by sustainable businesses.
Honeymoon
There are many green hotels for your honeymoon, along with various volunteer vacation programs and options.
Related Articles
Green Festivals and Events That Promote Sustainable Living
There are many initiatives, events, festivals, and celebrations that promote green choices and sustainable living. Eco film festivals, lectures, trainings, and fairs are organized to raise awareness of pollution and depletion of natural resources and promote green lifestyle. Thematic Events and...
Eco-friendly Restaurants for Green Dining
Eco-friendly restaurants offer sustainable food and have onsite water purification systems, organic gardens, and solar-powered technologies. They use biodegradable products, including straws, containers, and utensils and produce sausages, jams, vinegars, and wine in-house. This is a good way to...
Eco-Friendly Celebrations for Nature Lovers
There are many ways to make your dinner or party an eco-friendly one. Whether it is a birthday party, anniversary, or getting together with family or friends, there are ways to green your celebration. Greening Your Dinner PartyYou can use Evite or another service to send online invitations instead...