The Best Electricity Savers for Your Bathroom Space
Download Audio Version
Many homeowners choose to install energy-saving fixtures and devices as part of their home improvement or renovation project. In some cases, the upgrades and fixtures qualify for upgrades, which makes them cost-effective. Indoor heating, energy-efficient lighting, and insulation are upgrades that are worth considering.
Energy-Efficient Lighting
There are different options for your bathroom, including CFL bulbs and LED lighting. You can choose from fire rated shower lights, glass shower and ceiling lights, skylights and more. The main benefit for homeowners is that they save on electricity. Moreover, lighting is moisture and water resistant. Opt for low-voltage lights such as compact fluorescent light bulbs. Halogen lights are not the best option because they use too much electricity.
In-floor Heating and Benefits
In-floor heating is a great cost-effective option for your bathroom space. Homes come in different sizes, shapes, and designs and so do bathrooms. Built-in solutions such as underfloor heating are popular among eco-aware homeowners because they save energy.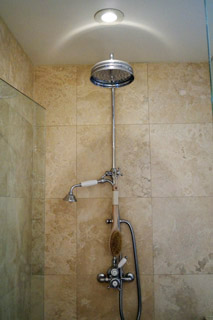 Radiators have a small surface area compared to floors and have to generate a large amount of heat. The good thing about in-floor heating is that no heat is lost. The surface temperature is about 21 ºC or 70 ºF. While radiators produce heat, a large amount is wasted because it goes up the ceiling and windows. Another benefit is that renewable sources can be used as well. Some heating systems are equipped with solar panels that help reduce your electricity bills and harmful emissions. Underfloor heating uses 40 percent less energy than radiators and standard systems.
Programmable Thermostats and Electric Baseboard Heating
Installing a programmable thermostat is a great way to control your floor warming system. You can reset it when you are at work, on vacation, or out of town. To save energy and money, you can set it at 20 ºC – 21 ºC while at home and set it lower while you are at work. This will reduce your electricity bill by up to 15 percent. If you have electric baseboard heating, then you will need a thermostat that is designed for a 240-volt or 120-volt circuit.
Types of Insulation for Your Bathroom
Good insulation is one of the best ways to save on electricity. Mineral wool insulation, for example, is eco-friendly because it is made from recycled materials. Fiberglass and foam are usually used to insulate walls and roofs, but there are other alternatives. The problem with fiberglass is that it contains hydrochlorofluorocarbons that produce ozone. HCFCs contribute to global warming and cause damage to animals and plants. Hydrochlorofluorocarbons also increase the risk for breathing problems and chest irritation. They can enter the body through inhalation, contact, or ingestion. The good news is that there are eco-friendly insulation options for your bathroom space. One idea is to use spray cellulose which is usually installed on new walls. It is made from plant fiber and used for noise and heat loss reduction. Another benefit is that spray cellulose is draught proof. There are different types of insulation, including low-dust, stabilized, spray-applied, and dry cellulose. It acts as a vapor barrier and is a good option for mold control. Your savings depend on different factors, for example, temperature, weather conditions, wall and insulation thickness, and others. Other types of insulation include, cork, wool, cotton, recycled plastic, and mineral wool insulation. The latter is an eco-friendly option in that it can be used for pipe and structural insulation and reduces your energy expenditure and bill. Another option is to install a living roof. This is a way to reduce temperature by up to 8 percent in summer and cut down on cooling costs. You can plant flowers, grasses, low shrubs, and food plants, which is an added benefit. The cost varies based on factors such as roof accessibility, slope, size, whether irrigation is required, depth of soil, plants, and others.
In general, you need insulation if you have mold problems and the floor and walls are cold during the winter months. Make sure that there are no air leaks because this will cost you a lot of money in cooling and heating. Moisture problems also appear as a result of air leaks.
Related Articles
Energy Conservation to Reduce Consumption and Your Bill
Energy conservation refers to different methods and strategies that aim to reduce the amount of energy used. Conservation is essential for environmental protection and human health. Plants that produce electricity release toxic gases, mercury, arsenic, and other harmful and toxic chemicals. They...
Energy-Saving Light Bulbs as a Flexible and Efficient Solution
Energy-efficient light bulbs are one solution that helps homeowners to conserve energy and reduce their bill. Types of Energy-saving Light BulbsThe main types of energy efficient lighting options are incandescent bulbs, CFLs, and LEDs. The energy efficiency of the three types is different. You can...
Eco Friendly Apartments Come with Upgraded Appliances and Innovative Materials
Eco friendly apartments feature sustainable materials, green furniture, and health-conscious fixtures and systems that help reduce the carbon footprint. While some people think that going green in an apartment, which is a small space, is more difficult, there are smart technologies and solutions...