Energy-Saving Light Bulbs as a Flexible and Efficient Solution
Download Audio Version
Energy-efficient light bulbs are one solution that helps homeowners to conserve energy and reduce their bill.
Types of Energy-saving Light Bulbs
The main types of energy efficient lighting options are incandescent bulbs, CFLs, and LEDs. The energy efficiency of the three types is different. You can look at the energy consumed and light generated to make a comparison. As a rule, bulbs that consume small amounts of energy and emit the most light are considered efficient. Each type of lighting has pros and cons.
Advantages of LEDs
Light-emitting diodes or LED lighting is long-lasting, eco-friendly, and efficient. There are many advantages, including long useful life, flexible design, and durability. Light-emitting diodes are the most energy-efficient option and are resistant to shocks and vibrations. Another benefit is that LEDs are green and free of mercury, lead, and other harmful chemicals. They are recyclable and supply low-voltage power. Flexibility is an added advantage in that they can be dimmed to produce lighting effects and set a mood. Dimmers are also used to control the dispersal, color, and intensity of light. Mood illumination is in use in different settings, including schools and airplanes. The only downside is that poor-quality light-emitting diodes become dim, change color, and begin to flicker over time. Good quality LEDs feature instantaneous lighting options, energy efficiency, and brightness.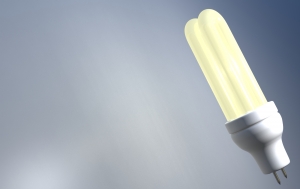 Compact Fluorescent Light Bulbs
CFLs are one alternative to LEDs that has a useful life of up to 10 years. They feature the full spectrum of colors and are suitable for different rooms, including bathrooms, bedrooms, and kitchens. The main advantages of fluorescent light bulbs are that they help homeowners to save energy and money and reduce greenhouse emissions. Another advantage is that CFLs have a flexible design and can be used in track lighting, outdoor lights, and recessed cans. In terms of efficiency, 75-watt incandescent light bulbs are as efficient as 20-watt fluorescent bulbs. This means that CFLs are 75 percent more efficient. Homeowners who use CFLs contribute to the efforts to protect the environment. Over their life span, fluorescent bulbs save about 204 kg of carbon. Households have between 30 and 40 sockets on average. Using 20 fluorescent light bulbs will result in savings of about 4 tons of carbon. Small vehicles use close to this amount of carbon on an annual basis. Substituting regular lights with CFLs is like declaring your car off road.
Incandescent Bulbs
While there are fixtures that are more efficient, incandescent bulbs also offer some advantages. The main benefits are that they are inexpensive and have a long lifespan. The useful life of incandescent bulbs is up to 1,500 hours or 75 days (if you use them 24/7). Unlike fluorescent bulbs and LEDs, they are available in different parts of the world. New technologies are not widely available in some developing countries and remote areas. Incandescent bulbs have different applications and are used in hallway, table, and desk lamps, accent lighting, and so on.
Motion Sensor Light Bulbs
This is a form of smart lighting that comes with control units and sensors. The main benefit of motion sensor fixtures is that they solve the problem of leaving lights on at night or by mistake. Motion sensor lights detect movement and changes which makes them active sensors. They are sensitive to body temperature and are often used to brighten up dark areas such as sidewalks, garages, backyards, and others. You can install them at your back and front door or the driveway. Whether you are coming home late after a night shift or want to make sure that your house is safe, motion sensor lights are a great option. They are easy to install and maintain and are affordable. Moreover, they save energy and money because light is deactivated during the day. You can also install a manual switch and turn off the lights or keep them on whenever required. A major advantage is that motion sensors improve your home's safety and security. While your safety is not 100 percent guaranteed, this is a good low-cost option to get con artists, burglars, and thieves to back away. This is especially important if you have small children.
Choosing Between Different Options
There are several factors to consider when choosing between different energy-efficient bulbs. One is the maximum temperature at which the bulb can generate light. Another factor is the life span of different components, electronics in this number. Moreover, a transformer is required for some types of fixtures. You may want to ask if it is included in price. There are special features such as frequent switching and instant lighting that you may want to inquire about. Finally, ask about the effects of vandalism, rain, wind, snow, and other unfavorable weather conditions.
Related Articles
The Best Electricity Savers for Your Bathroom Space
Many homeowners choose to install energy-saving fixtures and devices as part of their home improvement or renovation project. In some cases, the upgrades and fixtures qualify for upgrades, which makes them cost-effective. Indoor heating, energy-efficient lighting, and insulation are upgrades that...
Energy Conservation to Reduce Consumption and Your Bill
Energy conservation refers to different methods and strategies that aim to reduce the amount of energy used. Conservation is essential for environmental protection and human health. Plants that produce electricity release toxic gases, mercury, arsenic, and other harmful and toxic chemicals. They...
Energy Use Assessment for Improved Efficiency
Energy use assessment is done to find out which parts of the home and which household appliances are efficient and whether they use more than necessary. The goal is to achieve optimal use, conserve energy, and minimize damage to the environment.Step-by-step AssessmentGood thermal insulation is an...