Car-Free Communities and Green Designs for Energy and Water Conservation
Download Audio Version
There are many benefits to living in a green community, and one is that residents enjoy clean air and improved quality of life. Eco-friendly buildings help homeowners to save on water and electricity for cooking, heating, and general use.
Features of Green Buildings
Green buildings incorporate eco-friendly features and focus on maintenance, construction, and design. Among the main benefits are improved noise control, abundance of sunlight, better indoor air quality, and improved energy efficiency. Housing is usually constructed on previously developed sites and environmentally sensitive plots. Existing under-used sites are also used to preserve nature and reduce the negative impact on nature. The goal is to restore the area and its flora. Efficient design means that innovative and energy-efficient materials are used. Water recycling is another feature. Moreover, recycled materials are used for construction. Building materials are processed, extracted, and made regionally.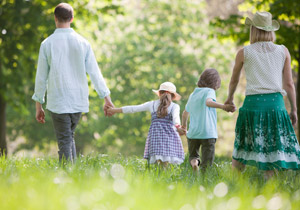 The focus is on public transport and improving the existing infrastructure. Many neighborhoods are built close to bus, light rail, and other forms of public transportation. The buildings are also designed for people with limited mobility, and there is a wheelchair charging station.
Energy and Water Efficient Buildings
Energy and water efficiency are also important features. Green buildings are equipped with low flow heads, faucets with sensor controls, and dual flush toilets. Efficient irrigation and reclaimed water use contribute to improved water efficiency. Energy efficiency is achieved through the appropriate placement of vapor and air barriers, duct, sealing, envelope air sealing, good window selection, and the utilization of solar panels and sun-powered cooling and heating technologies. Renewable energy sources are used, including wind, thermal, and solar energy. Some buildings also feature passive designs and are designed to reduce heat requirements. The units are community oriented and the main focus is on sustainability.
Bottle refilling stations and storm water usage are other features. Storm water management systems are used to capture, treat, store, and use rainwater. Filtration systems are used for water treatment. Bottle refilling stations are an innovative feature that encourages households to use treated water.
Other Features
The features of green buildings include rooftop planting, improved thermal insulation, motion detector sensors, and automated ventilation controls. Other features are efficient heating equipment, rainwater utilization systems, and low-energy light fixtures. Efficient water recycling and delivery systems are also used to reduce stress on the environment and improve water conservation.
The increased incidence of allergies and respiratory problems has been associated with poor air quality. The goal is to improve air quality through filtration and improved control of contamination sources.
The Sustainable Model District
Vauban, Freiburg in Germany is an example of a district that was designed in such a way as to reduce energy consumption. Houses were constructed to meet the low energy standard and use photovoltaics and solar collectors. The heating grid is connected to a co-generation plant that is powered on wood chips. Public areas are used for socialization and as kids' playgrounds. The district has been redeveloped to provide housing for some 5,000 inhabitants. It is organized as a cooperative and meets all cultural, socio-economic, and ecological requirements. These include car-free living, family-friendly housing, a community center for local initiatives, meetings, and cultural events, shopping center, and sun-powered technologies. Eco-friendly building materials are used for the construction.
The main idea behind the sustainable model district is to create a car-free community. The ownership and use of vehicles is restricted within the district. The streets are intended to be used by pedestrians and not vehicles. Parking spaces are very expensive. There are solar garages, but it costs about €18,000 annually to use one. There is a well-developed public transportation system and bicycle network. At the same time, only 40 percent of the residents in Vauban don't use cars.
There are many benefits to living in a green community like this. Residents help reduce environmental pollution and climate change by using energy efficient technologies and transport. This is a way to raise awareness of environmental pollution and the need for sustainable development. Urban planning is an important step in this direction.
Related Articles
Energy Conservation to Reduce Consumption and Your Bill
Energy conservation refers to different methods and strategies that aim to reduce the amount of energy used. Conservation is essential for environmental protection and human health. Plants that produce electricity release toxic gases, mercury, arsenic, and other harmful and toxic chemicals. They...
Eco Friendly Apartments Come with Upgraded Appliances and Innovative Materials
Eco friendly apartments feature sustainable materials, green furniture, and health-conscious fixtures and systems that help reduce the carbon footprint. While some people think that going green in an apartment, which is a small space, is more difficult, there are smart technologies and solutions...
Eco Friendly Plans for High-Tech and Compact Homes
Eco friendly home plans focus on energy and water conservation. They aim to reduce the negative effect of building and use of resources on the environment and human health. Features of Green Home Plans Architects design homes that use recyclable materials, energy-efficient lighting,...