Eco Friendly Plans for High-Tech and Compact Homes
Download Audio Version
Eco friendly home plans focus on energy and water conservation. They aim to reduce the negative effect of building and use of resources on the environment and human health.
Features of Green Home Plans
Architects design homes that use recyclable materials, energy-efficient lighting, non-polluting power, and cross ventilation. There are different options to choose from when it comes to design. Sustainable home types include bungalows, villas, cottages, duplexes, single-family homes, and others. The design of the house depends on the location, climate, number of household members, and other factors. At the same time, there are different design ideas that can help homeowners who are remodeling or building a house. Many builders clear the site before construction. However, trees close to the house provide shade, which is important for areas with warm climates. The type of materials used is also important, whether for indoor or outdoor settings. Many eco home plans incorporate building materials that are strong, durable, waterproof, and pest-resistant and require little maintenance.
Layout and Design
More and more people choose one-room homes that feature a common cooking, dining, and living space. Glass-walled and one-room homes are popular among young people. They can be spacious and spectacular or minimalist, depending on individual needs and preferences. Many people opt for green abodes, small houses, and even container homes. Shipping containers, for example, are recycled and used to build single-family homes. This is an eco-friendly and inexpensive solution. Mobile dwelling units are intended for people who love to travel.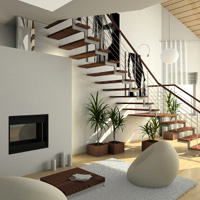 Different elements such as the sofa, desk, bed, and bathroom fold back when travelling. Ecopods are also made from shipping containers and can function off the grid. This is a transportable and inexpensive option made from different materials. Some ecopods come with walls from FSC, sun-powered household appliances, and recycled rubber floors. Roof-mounted panels transform sunlight into energy and power the fridge and other devices. There are innovative and green features such as a composting toilet and double-glazed thermal paned windows. Ecopods also feature soy-based thermal insulation and sun-powered wall outlets. Prices start at around $20,000.
Flexible Designs
There are other eco-friendly home plans that are sustainable and innovative at the same time. Tumbleweed houses, for example, come with a cabin-type design. The home plan features a bathroom, bedroom, and workspace. There is a living space, and the bathroom includes a shower and toilet. Some tumbleweed houses even have a porch for homeowners to sit and relax. Compact homes are also small but functional and include a dining room, lobby, bathroom, kitchen, and bedroom. They can be constructed and integrated into different landscapes. Because of their flexible design, they can be used as second homes, and teen or guest homes. Compact units can be used in different ways – for leisure, business trips, social accommodation, and many others. Customers can choose from larger units as well as vertical and horizontal arrangements. They feature top-notch, innovative appliances and entertainment technologies.
Rollit homes are strange, indeed. They were created at the University of Karlsruhe and include a kitchen sink, toilet, dining kitchen, bed, and other features. By walking in the center of the house, the homeowner can change it, and different pieces of furniture and fixtures appear. This is a type of experimental housing that looks like a hamster wheel. The worktop and table can be converted into a bed/sleeping area. The pillows and blankets are kept under the bed. The front section of the structure features a stove, toilet, and sink. The house itself is made of a membrane, inner shell, and supporting rings.
High-tech, Compact Houses
The Single Hauz is a structure with an innovative design that resembles a roadside billboard. Some structures are built over a river, lake, sea, or another body of water. They are ideal for singles with busy lifestyles. The living space is about 200 square feet (60 square meters). It is high-tech, compact, and energy-efficient. There are other unique, compact, and eco-friendly designs, including tiny Texas houses, nano houses, and cubed mini homes. Cubed homes, for example, come with a closet, bathroom, and living space and are fitted with modern appliances such as an oven, microwave, and even a dishwasher. Nano homes feature convertible rooms and are designed for a family with two children. The living area is just 25 square meters, which makes it the smallest green house in the world. The house is equipped with a solar heating system and thermal insulation. It is a prefabricated type of home with smart features such as a rainwater catchment system, green roof, and built-in furniture. Some nano houses also go with a solar heat pump, argon-filled windows, and grey water recycling. Each unit comes with furniture, plumbing, and wiring, and homeowners can order other sustainable features. Designers even add feng shui ornaments and accents.
Texas houses are built from salvaged materials and are designed with the customer's needs in mind. They are wired and plumbed by licensed professionals. Texas type of houses feature under-the-sink cabinetry, sink faucet, and sink, which are included in the price. Microwaves, stoves, and fridges are not included. Additional features can be ordered such as a tub, shower, porcelain sink, and other fixtures. There is a possibility to install a small heater and an air conditioning system. Propane heaters are ideal for cold climates.
Related Articles
Green Roofs for Energy Efficiency and Improved Isolation
A green roof is a great addition to your home because it contributes to improved isolation and helps maintain comfortable temperature. A living roof is fully or partially covered with plants and other vegetation. Environmental, Social, and Health BenefitsThere are many financial and environmental...
Eco Friendly Apartments Come with Upgraded Appliances and Innovative Materials
Eco friendly apartments feature sustainable materials, green furniture, and health-conscious fixtures and systems that help reduce the carbon footprint. While some people think that going green in an apartment, which is a small space, is more difficult, there are smart technologies and solutions...
Eco Friendly Furniture Helps Reduce Deforestation
Eco-friendly furniture has become a popular choice for many people and is increasingly available today. Homeowners opt for green pieces for indoor and outdoor use, with materials ranging from recycled teak to certified bamboo. Finding Green Furniture Many homeowners go to demolition...