Green Roofs for Energy Efficiency and Improved Isolation
Download Audio Version
A green roof is a great addition to your home because it contributes to improved isolation and helps maintain comfortable temperature. A living roof is fully or partially covered with plants and other vegetation.
Environmental, Social, and Health Benefits
There are many financial and environmental benefits, including reduced cooling, storm water management, and aesthetic appeal. Improved air quality and better sound insulation are added benefits for homeowners. The roof filters pollutants and contributes to better indoor air quality. This reduces the risk for lung problems because of the lower levels of carbon dioxide. Green space also helps reduce blood pressure and heart rate and speeds up post-surgery recovery.
What is more, there is more space for amenities such as recreational and commercial areas, including playgrounds, pools, restaurant terraces, display areas, and community gardens. Green walls and roofs also create more jobs related to maintenance, installation, design, and manufacturing. Homeowners benefit from improved energy efficiency and durability. Eco roofs minimize heat loss during the winter and protect homes from direct sunlight during the summer months.
Green roofs also contribute to biodiversity and wildlife preservation. They offer a habitat for a variety of plant species and rare birds. Additional benefits include enhanced appearance, improved drainage, and accessible roof space.
Materials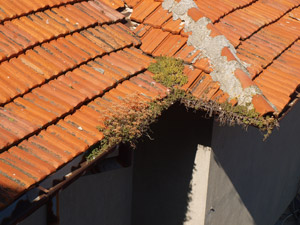 Green roofs are also eco-friendly because they are made from recycled materials such as secondary aggregate, crushed porous bricks, membranes, and others. Other options and materials used include roof pavers, shingles, metal, single-ply thermoplastic, tiles, and living roofs. A living roof is a great option but it is more difficult to maintain. Choose plants that cope well with intense sunlight, strong winds, shallow soils, and draught. Most plants that grow in dry grasslands, sandy areas, and rocky cliffs are suitable. You can choose from grasses, flowering plants, succulents, and native wildflowers such as Silene uniflora, Leontodon hispidus, Lotus Corniculatus, and others.
Types of Roofs
There are several types to choose from, including intensive, semi-intensive, and extensive. The intensive roof is ideal for vegetation such as shrubs and perennials. Advanced irrigation systems are often used. This is a good choice if you want to have a vegetable garden roof or rooftop farm. Semi-intensive roofs are 5 to 7 inches in depth and are suitable for small shrubs, herbs, grasses, sedums, and certain types of perennials. They require occasional irrigation and moderate maintenance and are less expensive than intensive roofs. Extensive roofs are covered with grasses and herbs, succulents, sedums, and mosses and are low maintenance. This is the least expensive option. A permanent irrigation system is not required. This type of roof is often used for solar systems and storm water management.
Other Types and Structures
There are also biodiverse roofs, podium decks, and super lightweight, and lightweight extensive roofs. Lightweight structures come with pre-grown vegetation mats and require occasional irrigation. Super lightweight roofs are made of pre-grown mats, a filter fleece mat, and drainage board. Biodiverse roofs are another option that encourages natural colonization and attracts insects and birds. The depth profile varies to increase biodiversity. Whatever the roof of choice, several factors play an important role – nutrients, aeration, drainage, moisture, and sunlight. Sustainable roofs support a growing medium and consist of different layers, including filter, drainage, and protection layers. The material used to make the roof is root resistant. The structure is composed of water proofing, a root barrier, and a protection mat. The roof also includes a drainage layer, filter sheet, substrate, and plant level. Many manufacturers offer complete systems, including vegetation, soil mixes, waterproofing membranes, and other components. Landscape architects, ecologists, drainage engineers, and other specialists are consulted before the actual construction. Factors such as bio-region, microclimate, and climate conditions are taken into account.
Green Walls
Walls also come in different varieties, including intensive, semi-intensive, and extensive. Free standing walls are also used for privacy. They support vegetation such as flowers, semi evergreen and evergreen foliage, and berries. Intensive walls are made of felt-like material or grid-like elements and can be used for different plant species. They are high maintenance when it comes to fertilizers, weeding, and irrigation. Semi-intensive walls are yet another option for sustainable homes. They are made of wire mesh or cables that serve as a support system for climbing plants. Semi-intensive and extensive walls support wildlife and provide food for different species. They are also used for shading in summer.
There are living walls and green facades. The former are also called vertical gardens and bio-walls and come in the form of pre-vegetated panels. Modular panels consist of vegetation, a growing medium, geotextiles, and special plastic containers. They support a wide variety of plant species, including edible plants, perennial flowers, shrubs, and ferns. Modular panels can be installed in regions with continental and tropical climates. They are suitable for eco-friendly houses, retail stores, public, office, and commercial buildings. In addition to modular panels, manufacturers also offer tray systems. A green facade is another option that can be constructed as a freestanding structure or can be attached to the wall. Facades also support a variety of climbing plants.
Related Articles
Eco Friendly Building Materials for Sustainable Living
Eco friendly building materials help minimize damage to the environment. They pose no risks for human health and allow residents to use non-renewable resources more efficiently. Advantages for HomeownersAmong the many advantages for residents is that houses which incorporate eco materials require...
Eco Friendly Plans for High-Tech and Compact Homes
Eco friendly home plans focus on energy and water conservation. They aim to reduce the negative effect of building and use of resources on the environment and human health. Features of Green Home Plans Architects design homes that use recyclable materials, energy-efficient lighting,...