Environmentally Friendly Appliances as a Safe Alternative to Conventional Devices
Download Audio Version
Environmentally friendly appliances are designed to increase energy efficiency and reduce utility bills. Homeowners have free income to spend on groceries, clothes, loans, and other critical needs. Increased spending has a positive impact on the economy, with businesses investing in new technologies and products.
Types of Appliances and Energy Savings
There is a wide array of green household appliances such as air-conditioning and heating equipment, solar heaters, clothes washers, refrigerators, and others. Clothes washers, for example, use a small amount of water to wash and spin clothes and reduce the consumption of water and electricity by 35 – 40 percent. While clothes dryers are not considered energy efficient, there are ways to cut your electricity bill. One is to line-dry your laundry whenever possible. You can use the clothes washer for large pieces such as sheets, table-cloths, and towels.
Some companies advertise eco-friendly clothes dryers that are energy-efficient and extend the life of clothing. There is no fraying, fading, or shrinking. Unlike them, conventional dryers damage clothes because they work at temperatures that are too high. Innovative devices substitute drip-drying and are designed for all types of clothing. Eco washers are also an excellent choice for green-minded consumers because conventional appliances consume a lot of water. In fact, some companies have developed detergent-less and water-less washers that will be offered on the market by 2020.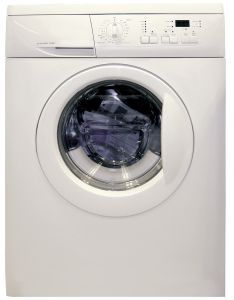 When it comes to kitchen appliances, your refrigerator consumes a lot of energy. To cut your energy bill, you should choose a refrigerator that doesn't have separate units for cold drinks and wine. Use one refrigerator only and choose a large one instead of several small fridges.
Eco Friendly Cooking Appliances
You can choose from a large variety of cooking appliances, including electric and gas cook tops, ovens, ranges, and cookers. Gas appliances are a better choice for low-income families because they use less energy than electric cooktops. The main problem is that they release harmful gases and compounds such as nitrogen dioxide, carbon dioxide, and carbon monoxide. There are also electric and gas ovens and solar heaters. It makes sense to use an oven only if you can't cook a meal using a solar heater or the microwave. The oven should be used for cakes, kishes, pastries, and large meals only. You can prepare different meals in a solar cooker, including pastry, stews, roasted dishes, and soups. Solar cookers are sun-powered meaning that they use sunlight for cooking. In fact, you can also use the device to pasteurize water in the event of natural disaster, water shortage, or power failure. You can use the cooker for heating. This way, you will have water that is safe to drink.
When it comes to solar ovens, the main benefit is that they reduce environmental pollution. Gas and electric ranges and cookers consume close to 700 kWh annually. This consumption produces more than 420 kg of carbon dioxide that is released into the environment. Burning charcoal and wood produces substances that cause health problems and damage the environment. A solar oven is a green, safe alternative to conventional cooking devices and comes with a simple design.
Why Buy Eco Friendly Appliances?
There are many benefits, and one is that your household energy needs will be met with less consumption. There is a difference between energy efficiency and conservation – the latter aims to decrease demand. Unlike this strategy, the former aims to reduce the amount of energy that is used by household appliances. Such appliances are not only more efficient, but help reduce the risk for different health problems. For example, choosing a green cook stove over a traditional one lowers the incidence of pneumonia among children by close to 50 percent. Power generation and gas emissions are responsible for a number of cardiovascular and respiratory diseases among adults and children. In fact, according to a report by the World Trade Organization, traffic incidents and gas emissions are responsible for more than 2.5 million deaths a year. Another problem is that the cost of electricity is on the rise, and energy savings have become a major consideration. Many low-income families lack access to energy sources, especially in the developing countries. Eco-friendly appliances not only cut electricity bills but help families and neighborhoods to maintain access in the event of natural disasters and power shortages.
How to Choose Green Appliances
There are different factors to take into consideration, including efficiency, price, size, and others. It is important to understand star ratings that show energy efficiency. All air conditioners, dishwashers, dryers, fridges, and other appliances carry a label that offers information about the yearly energy consumption. It is shown in kilowatt hours. Even if you have a basic idea only, it will help you to compare different devices while shopping. As a rule, the higher the rating, the more efficient the device. The downside is that a higher rating also means a higher price. When it comes to dishwashers, each star increases efficiency and lowers your costs by up to 1/3 a year. You will benefit even more if you use the economy cycle. For kitchen appliances, cooktops are more efficient than other types of cooking devices. They use 60 – 65 percent less energy which amounts to considerable savings.
Related Articles
Water-efficient Showerheads and Faucets to Reduce Waste
Water-efficient products are good for the environment and save a lot of money. Installing kitchen taps, shower handsets and controls, basin taps and baths that conserve water will help reduce soil and water contamination. Sink FaucetsSome manufacturers offer sink faucets that help reduce the water...
Energy Conservation to Reduce Consumption and Your Bill
Energy conservation refers to different methods and strategies that aim to reduce the amount of energy used. Conservation is essential for environmental protection and human health. Plants that produce electricity release toxic gases, mercury, arsenic, and other harmful and toxic chemicals. They...
Energy Use Assessment for Improved Efficiency
Energy use assessment is done to find out which parts of the home and which household appliances are efficient and whether they use more than necessary. The goal is to achieve optimal use, conserve energy, and minimize damage to the environment.Step-by-step AssessmentGood thermal insulation is an...