Eco-Friendly Fabrics and Fashion from Organic Materials
Download Audio Version
Eco-friendly fabrics are a sustainable alternative to synthetic fibers and materials. There is a variety of green textiles such as lyocell, polyester, bamboo, silk, organic cotton, and others.
Organic Cotton
Organic cotton offers many benefits for homeowners, farmers, and local communities. For local famers, production is associated with better food and economic security and improved access to domestic and international markets. There are also benefits for retailers and traders that offer organic cotton. They enjoy better credibility and participate in dynamic markets. Consumers, on the other hand, purchase clean products that are safe for their family and the environment. Products made from cotton are clearly labeled, and manufacturers comply with strict standards for organic produce.
Silk
Silk is an all-organic material that is made by silk worms. Nature lovers may find the process cruel because the worms are placed in boiling water to get the fabric. Producers expose, boil, or steam the chrysalis before the worms develop into moths. The good news is that there are new types of fabrics such as vegan and peace silk. This is an option for eco conscious consumers who wish to protect insects from cruel treatment. With vegan silk, the cloth is made from Tassar and Eri moth cocoons and is produced in India. The fiber is spun on threads so that the moths do not break through it and damage it. It is soft and warm but not as strong.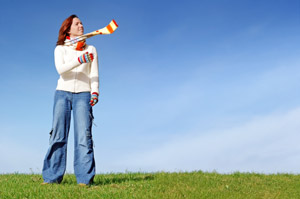 Other Types of Green Products
Manufacturers also produce bamboo, polyester, linen, cashmere, hemp, and other fabrics. Hemp, for example, is eco-friendly in that farmers use no chemicals to protect the crops. It is used to manufacture nightgowns, pajamas, and other items. At the same time, it is also used to produce strong fabrics. Linen is also a green fabric because it needs only a small amount of pest-controlling chemicals. Manufacturers use natural and organic dyes for pure linen. Among the many benefits are that the textile absorbs moisture (i.e. it is hydroscopic) and doesn't stretch or shrink. It has good air permeability, and it is abrasion, moth, and stain resistant. Moreover, linen is biodegradable and durable and promotes good night's sleep. Cashmere is considered a luxurious fabric that is produced from the under-hair or undercoat fibers of Himalayan goats. The main benefit for consumers is that it is long lasting which makes it a practical investment.
There are also soy textiles that are manufactured from soy oil byproducts. They are sustainable and certified organic, and clothing is silky soft and lightweight. This type of fabric is known as vegetable cashmere. Other benefits are that it is UV resistant and moisture absorbent and has good anti-bacterial properties.
Clothing is also made from materials such as alpaca, bamboo, and Ingeo, which is a new type of fabric. Fermented plant-based sugars are used to make Ingeo. The process is cost-effective as it requires less energy than cotton. Another advantage is that it is quite versatile. The fabric is used to make different products, from covers for sofas to socks. Moreover, Ingeo has hypoallergenic properties and provides good thermal insulation. Natural sources are used to make this fabric which means that production promotes the more limited use of oil, gas, and other non-renewable fossil fuels.
Eco-friendly Clothing
Green clothing is manufactured using environmentally-friendly materials like the ones above. Eco fashion is popular among people of all ages. From shirts and skirts to shoes and bags, there is a wide variety of clothing and accessories made from recycled materials and organic fabrics. Leading designers feature eco-friendly clothing and designs, apparel, and jewelry. Sustainable fashion contributes to making the world more ethical, healthier, and environmentally conscious. More and more designers choose textiles that are locally made, organic, and certified. Manufacturers use more efficient processes and less water and energy. They adopt responsible and sustainable labor practices. And designers have embraced the concept of demi-couture clothing which is made from natural and recycled materials.
Baby Products
Of course, manufacturers offer green products for babies and young children. Organic is a popular choice of many families that are new to parenting. The reason is that these products are not treated with chemicals and insecticides and are more breathable than other fabrics. The fact that organic cotton is chemical-free makes it safe for young children as they have sensitive skin. Babies are especially prone to rashes and allergies. Manufacturers also offer baby clothing that is made from soy and bamboo. Bamboo is the preferred choice of many parents because it helps regulate temperature and is suitable for sensitive skin. It is also hypoallergenic and fire resistant. Soy textiles are also ideal for youngsters because they hold warmth. When it comes to hemp, the only problem is that this fabric is not as soft as organic cotton and other green materials. Some manufacturers mix it with linen, silk, cotton, and other fabrics to make it softer and good for babies.
In addition to baby-friendly wear, manufacturers also offer natural care products that have no petroleum, paraffin, lanolin, silicones, artificial dyes, and parabens. No animal byproducts or essential oils are used.
Related Articles
Eco-Friendly Gifts for the Best Holiday Ever
The holiday season is around the corner, and many customers are looking for eco-friendly holiday gifts. From toys to gadgets and works of art, there are gifts for everyone and for every occasion. Green Toys Retailers offer puzzles for children of different ages, made from sustainably harvested...
5 Tips to Recycle at Home and Save Valuable Resources
Recycling at home is a great way to reduce organic and other waste and show concern for the environment. There are simple solutions and recycling systems that can be installed in your house. Some people use dumpster-style bins and collect unbroken glass, plastics, cans, and papers. Others choose to...