Skylights to Brighten up Residential and Commercial Units
Download Audio Version
Skylights are windows that improve air circulation and bring daylight into your home. These are light-transmitting windows that brighten up commercial, business, and residential units.
Benefits for Homeowners
This is an environmentally-friendly solution for spaces and buildings that receive less sunlight. Light-transmitting solutions have colorbond or zincalume top structures and good thermal insulation properties. They come in different sizes and designs and help save energy. This is because homeowners use sunlight as a source of energy and not electricity.
Unlike skylights, artificial lights consume a lot of energy and cause light pollution. Over-illumination can lead to health problems and wastes money and energy. Artificial lighting is associated with an increased incidence of breast cancers, frequent waking and insomnia, and difficulty staying and falling asleep. Besides considerable savings and a healthy source of light, businesses that use skylights benefit from a reduced dependence on electricity.
They provide dispersed and indirect sunlight that causes less damage to curtains, carpets and flooring, and pieces of furniture. Tunnel skylights, in particular, are easy to install. Painting, dry walling, and framing are not required. It takes 1 – 1.30 hours to install a single piece. Another advantage is that this product is burglar proof. Moreover, it takes just 1 or 2 years for your investment to pay off.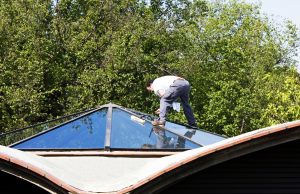 They can be installed in different settings, including schools, hotels, office buildings, malls, and others. In schools, they have been found to improve student performance. Students progress faster on reading and math tests in classrooms with natural sunlight. In offices, skylights decrease the incidence of absenteeism and reduce the risk of losses due to power outages. In addition to the lower risk of disruption, they are beneficial in that they increase safety in case of outages and emergencies.
Types of Skylights
There are different options on the market, but products with plastic glazing should be avoided. While they are inexpensive, such products have a short lifespan and leak. Tubular and traditional skylights are two types to consider. The latter offer many benefits and are suitable for offices and residential buildings. They protect employees and homeowners from direct sunlight and UV rays and distribute sunlight. This improves employee productivity, efficiency, and concentration. Tubular skylights are another option whereby sunlight passes through a tubular shaft. This is an efficient, eco-friendly, and inexpensive way to brighten up residential units. They are designed for small rooms, hallways, and other narrow spaces.
Ventilation windows are another variety that comes with remote controls, tilting design, and other features. They are easy to maintain and install and are offered with special shutters and designs.
Skylights can be divided into escape windows, fixed, waterproofing, and tilt windows. Escape windows can be used in emergency situations and are also known as rescue windows. Fixed skylights are another option for residential units that offer exterior access. Basically, they don't open and are installed to brighten up dark rooms and spaces. Flashing kits often come with tilting windows to waterproof them. The type of flashing kit to use depends on the roof shingles, form, design, and size of the window.
Flat skylights are the most common variety and come in different designs, including fixed and ventilating options. They are made from a rectangular or square piece of acrylic or flat glass. Customers can choose from different designs, including pyramid, polygon, and round. There are also, ridge, hip ridge, and dome skylights.
Types of Materials and Designs
The two main materials used are acrylic and glass, and they come with different insulation properties, sizes, and glazing. Some manufacturers also use lexan, which is a thermoplastic material with excellent thermal, electrical, optical, and mechanical properties. It is very durable and is characterized by crystal clarity and stability. Lexan is used in areas that often experience storms. While most skylights have a rectangular shape, there are also multi-sided, triangular, diamond, and oval designs.
Choosing the Right Solution
The right type of product depends on the size and design of your house and the climate in your area. While east-facing roofs offer plenty of sunlight, roofs that face north are the least likely candidates. Heat gain and loss are two problems to consider, and the solution is to carefully choose their location. For example, installing skylights on west-facing roofs can result in unwanted heat in the early and late afternoon. While a south-facing roof is great for heat gain in cold weather, it also produces a lot of heat during the summer. The solution is to install awnings, shades, louvers, or another type of shading device. There are different types of panels, blinds, and exterior and interior shades to choose from. Closeable blinds and roller shades are also offered by manufacturers. Another option is to plant deciduous trees that provide shading.
Related Articles
Energy-Saving Light Bulbs as a Flexible and Efficient Solution
Energy-efficient light bulbs are one solution that helps homeowners to conserve energy and reduce their bill. Types of Energy-saving Light BulbsThe main types of energy efficient lighting options are incandescent bulbs, CFLs, and LEDs. The energy efficiency of the three types is different. You can...