Commercial Vehicles and Intelligent Transportation Systems
Download Audio Version
Commercial transport is a major source of environmental pollution. According to a report by the United Nations, the transport sector accounts for 50 percent of the oil consumed and 25 percent of the commercial energy used. The good news is that there are many ways to go green and minimize pollution.
Green Transportation Networks
Roadway, highway, and roadside design are changing to respond to concerns for the environment. Municipal programs have been developed to plant more trees as part of road projects. Trees are planted to improve air quality and to provide shade. Optimizing the transportation network is important in that land and water resources are used in a way that reduces the carbon footprint while trips are more efficient. Service delivery and shipping are also less resource consuming.
Eco-Friendly Commercial Vehicles and Financial Aid
Commercial vehicles are equipped with fuel-saving technologies to increase profitability and minimize fuel expenses. While these vehicles are expensive, different federal, regional, and local incentive programs have been developed to encourage the purchase of eco-friendly trucks and other commercial vehicles. There are requirements regarding the fleet size, weight limit, region of operation, fuel used, vehicle type, revenue, and others. The requirements vary from one program to another. Businesses enjoy generous incentives in the form of tax credits, low-cost loans, vouchers and rebates, grants, and others. Low-cost loans are offered to small business owners who want to optimize their fleet's efficiency and come with low down payments and rates of interest. Businesses are also entitled to receive vouchers and rebates when buying a specific commercial vehicle. They are required to submit documentation such as manufacturer certificates, purchase orders, receipts, and others. Grants are beneficial in that they may cover up to 100 percent of the cost of certain vehicles. Tax credits and exemptions are also offered for the purchase of eco-friendly vehicles with fuel-saving features and upgrades. The required documentation may include special licenses, certificates, equipment and project information, financial records, and application forms.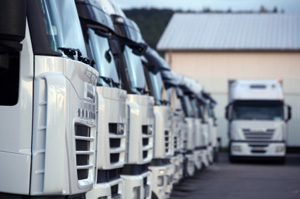 The choice of vehicle depends on the operations and goods produced. Vehicle manufacturers offer both light-duty electric trucks and busses and other commercial vehicles. The main benefits are fuel savings and no fumes released while in operation.
Types of Programs
Some programs offer incentives for the purchase of vehicles with idle reduction features and retrofitted trucks. Others provide financing to help businesses to reduce greenhouse gas emissions and fuel costs. There are also programs that offer loans with attractive interest rates for vehicle replacement and upgrades. Some upgrades, for example, advanced types of insulation, are excise-tax free. Finally, tax credits are offered to businesses that use alternative, eco-friendly fuels.
Freight Exchange
Freight exchange is a service offered to freight forwarders, logistics companies, and haulage businesses. Vehicle space is offered online by freight operators. The main benefits are cost reduction and efficient communication, and multi-branch companies are the ones to benefit the most. The goal is to facilitate freight transportation, improve efficiency, and reduce transport costs. Efficient communication is the way to improved control over the transportation infrastructure and reduced congestion.
Freight exchange aims to reduce the emission of particulate matter and carbon dioxide. Improved logistics efficiency is important in that it results in fewer kilometers traveled to supply raw materials, transport goods, and reach end customers. The inefficient management and control of freight distribution and transportation is the main cause of pollution. One way to achieve this is to switch from road to water and rail freight transport. This helps reduce congestion, traffic accidents, and air and noise pollution. In some countries, governments offer state subsidies to businesses that use rail transport. The reason is that road transport is more cost-efficient, and many businesses use it. The problem is that high-density and critical environmental zones face heavy pollution. Planning is also important when it comes to economic development, commercial, loading and distribution zones, and others.
Another goal is to develop and encourage the use of electric and hybrid vehicles that minimize greenhouse gas emissions, as well as alternative fuels. The aim is to reduce dependence on oil, natural gas, and other non-renewable resources that are considered major pollutants.
Transport Policies and Intelligent Transport Systems
The local authorities also introduce environmentally conscious freight and transport policies to create a more efficient environment. This is done in partnership with businesses and transport and logistics operators. One way to achieve this is to use fixed routes and intelligent public transport systems intended for rail, tram, bus, and ferry services. They are GPS based and feature real-time road-user information and software for traffic management and monitoring. Real-time information on traffic disruptions, timetables, and routes is offered to passengers. Traffic control centers are also built.
Related Articles
Smart Business Ideas for Environmentally Conscious Entrepreneurs
There are many profitable business ideas for environmentally conscious entrepreneurs. From making organic products and handcrafts to eco consulting, you can start a successful business. Organic and Handmade ProductsYou can use organic materials to produce cleaning solutions, soaps, facial masks,...
Eco-Friendly Vehicles for Fuel Savings and Green Lifestyle
Eco-friendly cars use alternative fuels and electricity and come with different fuel-saving features. Customers can choose from an array of different automobiles such as hydrogen hybrid, hydrogen fuel cell, and diesel hybrid. Manufacturers aim to produce affordable, reliable, and serviceable...
Eco Friendly Building Materials for Sustainable Living
Eco friendly building materials help minimize damage to the environment. They pose no risks for human health and allow residents to use non-renewable resources more efficiently. Advantages for HomeownersAmong the many advantages for residents is that houses which incorporate eco materials require...