Eco-Friendly Products for Green, Responsible Travel
Download Audio Version
If you are going on a holiday or trip abroad, you may want to pack lightly to minimize your carbon footprint. And there are eco-friendly travel products such as reusable food containers, bamboo utensils, and solar-powered devices to pack for your trip.
Products for Your Summer Holiday
There are essentials such as personal hygiene items, insect repellent, prescription medications, and chargers that you cannot go without. And there are other items such as your iPod and headphones that are not on the green essentials list. Some products actually contain dangerous compounds. Beach toys often contain Bispehnol A, phthalates, polyvinyl chloride, and other compounds that disrupt your hormonal balance. Some sunscreens are also made using substances such as oxybenzone which is a type of synthetic estrogen. If you have children, it is best to pack biodegradable toys, including shovels, sifters, buckets, and others. Biodegradable toys decompose in compost and fresh water and salt. They are made from corn instead of synthetic plastics that contain PVC, BPA, and petroleum. This means that they are safe for your kids and the environment. You can also buy a green insulated lunch bag to pack water, sandwiches, and light snacks for your children. You can also use it to pack your daughter or son's school lunch. It is free of phthalate, Bispehnol A, and lead.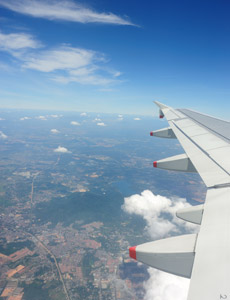 Many people pack plastic utensils because they are lightweight and easy to carry around. However, they are not biodegradable and contain harmful compounds (e.g. Bispehnol A). It is better to pack a bamboo utensil set that includes chopsticks, a spoon, knife, and fork. Bamboo is an eco-friendly material that offers environmental and health benefits. It is durable, allergy free, and aesthetically pleasing. You can choose a set that comes with a case from recycled plastic. Other products made from bamboo include bamboo nightshirts and gowns.
Personal Care Products
Packing lightly means choosing travel sized items and personal care products. Instead of buying smaller versions of your conditioner, shampoo, liquid soap, and so on, you can purchase a travel bottle set from recycled plastic. The set includes travel sized bottles for your personal care products. Some companies even donate a percentage of their sales to non-for-profit organizations. Another option is to buy a travel set that comes with eco-friendly items such as hand cream, scrub, lotion, and body wash. Choose products that are organic and phthalate-free. And there are products that are designed for busy travelers (business meetings, sightseeing trips and so on). In this case, it is hard to find time to shower twice a day. You may pack dry shampoo that is free of harmful chemicals and contains ingredients such as orris root powder, white clay, brown rice powder, cornstarch, and others. Pick a product with a recyclable cap and biodegradable label. Some companies even feature products that are manufactured in facilities using solar and wind power and energy efficient technologies.
At Home
Power down or unplug as many kitchen and household devices as possible, including the stereo, laptop, TV, air conditioning, and others. Some devices, including personal computers, use electricity even when turned off or on standby. Then, you may want to bring your laptop, iPod, and other high tech devices with you. But why not switch off from technology dependency for a week or two? If you must bring your laptop with you, at least try to use it infrequently. Buy a case made from recycled or upcycled fabric to transport it. The same goes for other devices such as your mobile phone. For example, you may buy a bamboo case for your cell phone. There are hand-finished cases that are unique and beautifully crafted. You can buy a case with a custom pattern.
There are eco-friendly travel gadgets to pack for your holiday. How about a water-powered alarm clock? The device runs on salted water and is cost effective and easy to use. You don't need batteries for your alarm clock. And there are biodegradable laptops that are energy efficient and feature a bamboo trim. You can use it for your holiday correspondence, word processing, and surfing.
Related Articles
Green Cruises and Retreats for Nature Lovers
Cruise companies are making efforts to green their fleets, incorporate sustainable practices, and reduce their carbon dioxide emissions. This is important given that cruise ships generate about 100 gallons of toxic and hazardous materials and more than 210 gallons of sewage. Different lines have...
Eco-friendly Smartphones and Laptops for a Greener Future
Eco-friendly devices offer plenty of benefits such as energy efficiency and conservation and low environmental impact. Smartphones come with features such as solar chargers, a wide selection of apps that reduce the need for peripheral devices, and a lot more. Eco-friendly laptops consume less...
Carbon Neutral Passenger Planes for Green Air Travel
Green air travel is getting popular with environmentally conscious consumers because airplanes account for 2 percent of greenhouse gas emissions and global warming. Water vapor and carbon dioxide are released high in the atmosphere because of air traffic. Possible SolutionsScientists propose...
How to Be an Eco-Friendly Tourist and Minimize Your Carbon Footprint
Tourism is a huge industry, and the demand for eco-friendly accommodations and entertainment is growing. Eco-tourism has become popular because of factors such a globalization, diversification of options, travel motivation, population growth, and better standard of living. Thus many developing...