How to Be an Eco-Friendly Tourist and Minimize Your Carbon Footprint
Download Audio Version
Tourism is a huge industry, and the demand for eco-friendly accommodations and entertainment is growing. Eco-tourism has become popular because of factors such a globalization, diversification of options, travel motivation, population growth, and better standard of living. Thus many developing countries now offer eco-tourism options to reduce poverty levels and support local communities and rural livelihoods.
Packing Light
This is very important. Every pound counts when flying. Airplanes that are packed tight produce more greenhouse gas emissions. Take one bag only. This is not only good for the environment but allows you to carry it yourself. It is less likely that your luggage gets stolen, damaged, or lost. You can leave your bag under your seat on an airplane, taxi, train, or other means of transport.
Air traffic is a major pollutant that accounts for about 10 percent of the greenhouse gas emissions. You may want to plan your vacation as to minimize short-haul air flights and stay longer at your intended destination.
Leaving Footprints Only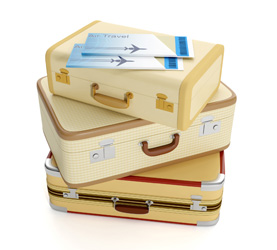 Eco-tourists take souvenirs and pictures and not flowers, rocks, and other objects. They don't litter. If 1,000 people take a volcano rock, this makes 1,000 rocks. Beach combing is also an issue. Starfish, sand dollars, and other species are also live organisms. Obviously, you shouldn't buy anything that is made from turtle shells, ivory, and other bird or animal products. Hunting threatened and endangered species is illegal in many countries.
Buying Local
Buy local products and souvenirs and use local airlines, car rentals, buses, and trains. Choose locally-owned bed & breakfasts, hotels, lodges, hostels, and other types of accommodation. Attend local events, community initiatives, festivals, and festivities. Shop at local stores and markets and choose local diners, restaurants, and fast food joints. When hiring a guide, choose a native speaker. Ask tour operators and travel agencies for recommendation and check if they are licensed. This is a way to support local communities and economies.
Using Eco-Friendly Items
Never use disposable batteries when travelling. They contain and leach toxic substances into the environment. Bring a charger with you and use re-chargeable batteries instead. This is also a more affordable option. Buy a voltage converter plug as well. You can use it for your charger, laptop, mobile phone, and other devices. Some chargers come with a quick charge feature that saves time and power. Never use plastic bags for packing. They are non-biodegradable and represent a threat to the environment. In fact, some 12 million oil barrels are used to produce 100 billion plastic bags. Oil extraction, processing, and transportation contribute to environmental pollution. Plastic bags, bottles, and other items are to blame for marine and soil pollution. Ecologists warn that some 1 billion birds die each year because of this.
It is also a good idea to bring eco-friendly items such as biodegradable soaps and shampoos. Soaps are good for your laundry, body and hands. Non-toxic products are made from peppermint, lavender, eucalyptus, tree, and other organic oils as well as almond, castor, and jojoba oils. They are suitable for small children and people with allergies and sensitive skin. Biodegradable soaps are free of chemicals and do not irritate the skin. A liquid soap is a better option if you plan a hiking or backpacking trip because it is easy to pack.
Green Transport Options
While using a taxi or renting a car is convenient, biking and using public transport minimize the impact of greenhouse gas emissions on the environment. Many places of interest and attractions are serviced by train coaches and vehicles. And in most cases, public transport is less expensive than taking a taxi. You will have the opportunity to chat with locals while onboard and learn new things. Walking is also a great way to enjoy the landscape and get some exercise.
Respect Wildlife
Avoid getting too close to birds and animals and don't chase them to take pictures. This can cause aggravation, fear, and stress. It is a good idea to get familiar with local laws that specify how close you can get to certain species.
Related Articles
Carbon Neutral Passenger Planes for Green Air Travel
Green air travel is getting popular with environmentally conscious consumers because airplanes account for 2 percent of greenhouse gas emissions and global warming. Water vapor and carbon dioxide are released high in the atmosphere because of air traffic. Possible SolutionsScientists propose...
Green Accommodation for Cleaner Environment and Rewarding Experience
Eco hotels, hostels, and other types of accommodation offer visitors the opportunity to stay in a green, energy-efficient, and non-toxic environment that doesn't contribute to environmental pollution. Features of Green Accommodation Eco hotels feature solar-powered electricity and devices,...
Car Sharing to Save on Mileage and Reduce Gas Emissions
Car sharing is a service that aims to reduce pollution and offer a convenient and efficient way to commute. Sharing contributes to a healthy urban environment and outdoor air quality, reduces traffic congestions, and contributes to a healthy economy. How It WorksThe service is offered to companies,...
Bike Sharing Is Worth It and Transforms Cities in Positive Ways
Bike sharing is becoming very popular. Some universities also offer rentals to faculty members, academics, and students. The bicycles are either offered free of charge or for a fee. There are sharing schemes in many countries around the world, including France, the United States, Greece, New...
Eco-Friendly Vehicles for Fuel Savings and Green Lifestyle
Eco-friendly cars use alternative fuels and electricity and come with different fuel-saving features. Customers can choose from an array of different automobiles such as hydrogen hybrid, hydrogen fuel cell, and diesel hybrid. Manufacturers aim to produce affordable, reliable, and serviceable...