Bike Sharing Is Worth It and Transforms Cities in Positive Ways
Download Audio Version
Bike sharing is becoming very popular. Some universities also offer rentals to faculty members, academics, and students. The bicycles are either offered free of charge or for a fee. There are sharing schemes in many countries around the world, including France, the United States, Greece, New Zealand, and many others.
Sharing Schemes and Basics
Rentals are offered on a short-term basis and can be used by everyone. You don't need to be a hardcore cyclist. Bikes are offered at hundreds of stations, and many people sign for a membership. They can be used 24/7. It is up to members to choose a route. Bikes can be returned at any station. Users can choose from 24-hour passes and annual membership. There are overtime fees while passes can be purchased at any kiosk. Stations are equipped with docking systems, station maps, and kiosks with touch screens. The best thing about these types of schemes is that members can make an unlimited number of trips under half an hour. Members don't need to bring bike locks with them.
There are different ways to subscribe, and many programs offer online subscription. Another option is to buy a weekly or daily pass. Passes are available for purchase at all bike stations and can be bought with a debit or credit card. Some sharing schemes even offer training programs to those who are new to biking as well as members who wish to brush up on their biking skills. Visitors of the city are also welcome to buy a pass and try this new form of transport.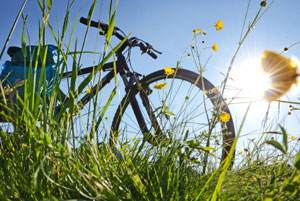 Benefits of Sharing
The local authorities in many countries (including the Bureau of Chronic Disease Prevention and Control) report improved road safety and lower mortality rates. The incidence rate has dropped by close to 40 percent. Air pollution is a major problem in the large cities. Bike sharing schemes improve air quality and help reduce the severity of traffic congestions. Increased physical activity is also associated with reduced risk for colon and breast cancer, diabetes, dementia, depression, cardiovascular problems, and other health problems.
The local authorities promote safe practices and designate protected lines. Wearing helmets is also encouraged. In addition to safety measures and alleviating traffic congestions, sharing schemes help reduce parking shortages. Commuters find it easy to plan their route and ride to train and subway stations and bus stops. Moreover, this is a convenient, quick, and affordable means of transportation. This is especially true for rush hour.
One idea is to offer to employees bike sharing membership as an added incentive. This is a great way for employers to encourage an active and healthy lifestyle. Companies offer an array of fitness and health benefits to employees, whether cooking classes, yoga, or bike riding. The goal is not only to prevent serious problems such as heart attacks and strokes but to ensure that people are mentally healthy. Large companies in the U.S. and other countries are now offering corporate membership. Biking schemes contribute to improved health, change traffic patterns, and improve the cityscape at the same time.
Regardless of whether cyclists use this service under a corporate scheme or choose annual membership, they benefit from the fact that bikes are very durable. Another advantage is that they are not responsible for maintenance and storage.
Goals and Requirements of Sharing Programs
This is a new form of public transportation that is eco-friendly, sustainable, and safe to use. It is a viable alternative to train, subway, bus, and other forms of transport. Moreover, it is more flexible than trains and trams. The age requirements vary depending on the state and province. In Australia, minors under the age of 15 do not qualify unless a legal guardian signs up on their behalf. Users should be at least 16 years old in Chicago. There are also height requirements.
Problems that Users Face
One problem is that many users are unable to return the bicycle because the station is full. This is a source of frustration. Bicycle shortages are another problem in stations that aren't managed adequately.
Related Articles
Light Rail Transit, Bridge Links, and Other Features of Eco-cities
Eco-cities combine modern and innovative features such as solar panels, green roofs, bridge links, and others. They are also known as sustainable cities and the goal is to reduce waste, pollution, and greenhouse gas emissions. Sustainable communities, cities, and districts rely on local resources,...
How to Be an Eco-Friendly Tourist and Minimize Your Carbon Footprint
Tourism is a huge industry, and the demand for eco-friendly accommodations and entertainment is growing. Eco-tourism has become popular because of factors such a globalization, diversification of options, travel motivation, population growth, and better standard of living. Thus many developing...
Commuting to Work in Environmentally Conscious Ways
There are many ways to go green and get to work, from walking and using public transportation to bicycling and car pooling. This is a way to get exercise and help reduce journey times and traffic congestion. Walking and Car SharingObviously, walking is a green way to get to work if you live within...