Commuting to Work in Environmentally Conscious Ways
Download Audio Version
There are many ways to go green and get to work, from walking and using public transportation to bicycling and car pooling. This is a way to get exercise and help reduce journey times and traffic congestion.
Walking and Car Sharing
Obviously, walking is a green way to get to work if you live within a reasonable distance. Or you can move closer to where you work (if you rent your place). Car sharing is another option, especially if you have colleagues who live in your neighborhood or area. In this way, you will share mileage and fuel costs and will help reduce the carbon footprint. Moreover, driving is stressful in rush hours and you can take turns. If you have more colleagues that live in your area, this means that you'll be driving less often.
Using Public Transportation
Another option is to use public transportation, whether train, subway, or bus, especially if you live in an area in which the network is well developed. Using monthly passes will result in considerable savings. Moreover, you can read a book, open your laptop, or do something else instead of driving. Working from home is also an option and you will save time and money on commuting. Some employees also opt for a short work week. You can ask your employer whether it is possible to work 10 hours a day, 4 days a week.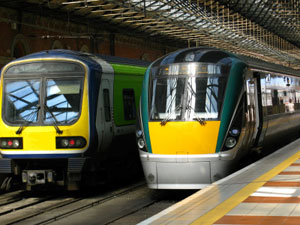 Data by Statistics Canada shows that people spend about 26 minutes to get to work on average. The problem is that some 82 percent of Canadians drive to work which only makes traffic congestions worse. One train or subway train that is fully loaded replaces up to 1,500 vehicles that are on the road every day. Using a low-floor train is one of the best options to get to work and reduce carbon dioxide emissions. Multiple unit trains are eco-friendly as well because they have more capacity compared to other trains. Hydro-mechanical diesel units are also manufactured.
Manufacturers plan to build bio-mode trains that use electric power. They will be lightweight and will use less energy. The good thing about light trains is that less material is used for maintenance and repairs. The first train will be produced by 2016. Electrifying the lines is another way to make a significant progress toward green lifestyle and healthy commute.
Experts note, however, that building tracks and rail stations also produces greenhouse gas emissions. Different factors should be taken into account, including the production and transportation of fuel as well as infrastructure and vehicle building. There are other ideas to make trains eco-friendly. One is to use materials that are less polluting. Another idea is to reduce the amount of concrete used.
Commuting to work by bus or subway is also a way to reduce the carbon footprint. A fully loaded bus has a capacity equal to about 60 cars. There are green electric buses in some countries. The first bus of this type can be seen in Vienna. It features a drive and charge technology, emitting no greenhouse gases. The energy is enough to drive up to 150 km.
Eco-friendly Bikes
Biking is another way to go green, especially in summertime and warm days. This is a great choice for people who burst with energy. Besides, you will get plenty of exercise in the morning and after work (depending on where you live). Bikers can choose from different sustainable alternatives such as pedal, electric, and even flying bicycles. Electric bikes combine a lightweight design with sophisticated style and produce no greenhouse emissions. A lithium ion battery is used to power the bicycle, so no oil changes or petroleum products are required. This is an economical solution for budget conscious commuters. The battery weighs about 2.7 – 3.1 kg and provides about 1,000 charges over its useful life. One charge costs about $0.05 which means that commuters spend under a dollar for 1,600 km. John Foden and Yannick Read designed a flying bike that comes with a biofuel-powered fan and a wing. This product is not on the market yet but its creators claim that it is easy to navigate and operate. The bike is equipped with strobe handlebars and a GPS tracker. There are other eco-friendly solutions such as urban bicycles with bamboo fenderset, easy shifting, and a LED lighting system.
Knowing good bike routes is also a step in this direction. They will make your commute to work safe, pleasant, and quick.
Related Articles
Light Rail Transit, Bridge Links, and Other Features of Eco-cities
Eco-cities combine modern and innovative features such as solar panels, green roofs, bridge links, and others. They are also known as sustainable cities and the goal is to reduce waste, pollution, and greenhouse gas emissions. Sustainable communities, cities, and districts rely on local resources,...
Car Sharing to Save on Mileage and Reduce Gas Emissions
Car sharing is a service that aims to reduce pollution and offer a convenient and efficient way to commute. Sharing contributes to a healthy urban environment and outdoor air quality, reduces traffic congestions, and contributes to a healthy economy. How It WorksThe service is offered to companies,...
Bike Sharing Is Worth It and Transforms Cities in Positive Ways
Bike sharing is becoming very popular. Some universities also offer rentals to faculty members, academics, and students. The bicycles are either offered free of charge or for a fee. There are sharing schemes in many countries around the world, including France, the United States, Greece, New...
Eco-Friendly Vehicles for Fuel Savings and Green Lifestyle
Eco-friendly cars use alternative fuels and electricity and come with different fuel-saving features. Customers can choose from an array of different automobiles such as hydrogen hybrid, hydrogen fuel cell, and diesel hybrid. Manufacturers aim to produce affordable, reliable, and serviceable...