Car Sharing to Save on Mileage and Reduce Gas Emissions
Download Audio Version
Car sharing is a service that aims to reduce pollution and offer a convenient and efficient way to commute. Sharing contributes to a healthy urban environment and outdoor air quality, reduces traffic congestions, and contributes to a healthy economy.
How It Works
The service is offered to companies, families, and individuals. Customers can reserve by phone, and reservations are made in advance. Some companies require 1 minute's notice, others – 1 hour, while still others allow customers to reserve 1 year in advance. The vehicle can be unlocked using the customer's key or card. Cars should be returned to a designated site before the time expires. All vehicles are insured, operated, and owned by a sharing service. Utilities and costs such as maintenance, oil, gas, and others are covered by the service. The cost varies between $25 and $100 annually. There are many sharing services such as Zipcar, Auto Share, and others.
Some operators feature membership packages that offer a set number of miles per usage. Thus, you may have 10 or 15 miles that are free-of-charge. Other companies charge by the mile and per hour so that driving is based on the actual number of miles. Otherwise, some people drive more as a way of getting their money's worth. The problem with this approach – paying for miles and hours used – is that customers dislike it. For them, the mileage fee makes trips more expensive considering the fact that there is no restriction on the mileage when renting a car. Then, other companies charge annual or monthly administrative fees. In fact, some people sell their second car and use sharing services. It is especially beneficial for high-usage individual members and businesses. Those who use it occasionally benefit less given the annual fee.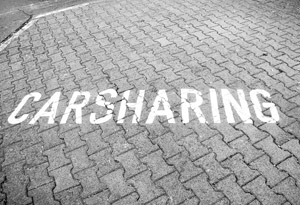 Benefits of Car Sharing
The service is affordable, environmentally friendly, carefree, and convenient. It is a low-cost type of transportation compared to car rentals, for example. It costs between $40 and $50 to rent a car. And there are many benefits such as no paperwork to fill in, reserved parking, and others. Of course, car sharing can be expensive for customers who intend to use the service for long distance travel. It is intended for shorter trips – to visit family or friends, go to the doctor's office, for grocery shopping, and so on. And it is a lot cheaper than buying a car and paying for gas, maintenance, parts, etc. Buying a car also means paying for routine inspections, tax, insurance, and the original purchase cost. Depreciation is another issue. Plus, sharing means no parking hassles, servicing, maintenance, and costly vehicle repairs.
This service is also a good choice for customers who use public transport but need a car from time to time. Those who need a second vehicle occasionally also benefit from car sharing. If your husband, roommate, partner, or son has the car today, you may use the service. Also if you have a small vehicle and need a larger one, you may consider hourly rentals. Many people also prefer public transit but use the service occasionally for spontaneous adventures. And it is used by small businesses for deliveries, meetings, and anything else. Some companies offer business plans and affordable driving rates. Business members are offered attractive fees. The vehicles are parked around their plant, store, or office.
Environmental Benefits
There are also benefits for the environment, the main one being reduced air pollution. The car sharing movement is gaining momentum in the developed countries. It is expected that 10 percent of the population will be using the service in the near future. The reason is that more and more people are going green and show concern for the environment. Customers drive less by using the service. They combine car sharing with public transport. Moreover, the service helps save the environment. Hundreds of thousands of parking spaces will be required if everyone is to drive his own vehicle. With services like this, customers benefit from designated parking spaces.
Related Articles
Hypermiling as a Way to Stretch Miles per Dollar
Hypermiling is a way to save gas dollars and reduce greenhouse gas emissions. In fact, you can achieve an improvement of up to 40 to 50 percent over your car's mpg figures. It is also a way to keep your engine running for longer because improved fuel efficiency minimizes the demands on your...
How to Be an Eco-Friendly Tourist and Minimize Your Carbon Footprint
Tourism is a huge industry, and the demand for eco-friendly accommodations and entertainment is growing. Eco-tourism has become popular because of factors such a globalization, diversification of options, travel motivation, population growth, and better standard of living. Thus many developing...
Bike Sharing Is Worth It and Transforms Cities in Positive Ways
Bike sharing is becoming very popular. Some universities also offer rentals to faculty members, academics, and students. The bicycles are either offered free of charge or for a fee. There are sharing schemes in many countries around the world, including France, the United States, Greece, New...
Commuting to Work in Environmentally Conscious Ways
There are many ways to go green and get to work, from walking and using public transportation to bicycling and car pooling. This is a way to get exercise and help reduce journey times and traffic congestion. Walking and Car SharingObviously, walking is a green way to get to work if you live within...