Free Public Transport and Other Methods to Decrease Urban Sprawl
Download Audio Version
There are different ways to reduce traffic congestion and carbon dioxide emissions and pollution. Free public transport is one way to encourage people to use buses and trams and cut traffic emissions.
Free Public Transport
Tallinn, the capital of Estonia offers free public transport to reduce car traffic. The town of Hasselt in Belgium introduced free transport in 1997, and the number of passengers rose 10 times in 10 years. The cost of the service is an important consideration for city councils. In Tallinn, ticket sales amount to a total of €17 million while the transport budget is €53 million. Mobility is one of the main benefits for city residents, and pensioners, students, and low-income individuals benefit the most. Obviously, less pollution means cleaner air for all residents. In addition to regular public transport, Tallinn also has electric trams and trolleys. This helps reduce harmful emissions and the carbon footprint. Only city residents use public transport free-of-charge. Contactless travel cards have been distributed for use by all residents.
Other Ways to Decrease Urban Sprawl
Exclusive Lanes
One way to reduce congestion is to provide exclusive lanes for buses and other means of transport. They can serve as parking or mid-flow lanes during the day and as exclusive lanes in rush hour. There are designated lanes for bicycles and taxis in large cities such as Paris, San Francisco, Vienna, Copenhagen and others. Lanes that are separated by barriers or in some other way work best.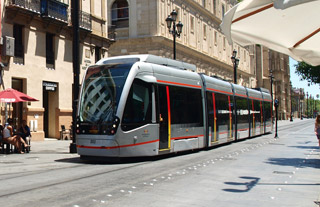 Traffic Control and Regulations
Traffic control and regulations help reduce congestion and pollution. Many cities have adopted loading and turn restrictions and parking restrictions. Turning restrictions are implemented to reduce traffic delays. Parking restrictions apply to on-street parking, footways, verges, and highways. Restrictions are also enforced in environmentally sensitive areas. Many cities also offer controlled parking zones. In some cases, there are on-street parking areas for certain users and types of vehicles, for example, disabled persons and permit holders. Parking is either paid or free-of-charge. Some municipalities specify minimum time and limits on the period of stay, as well as other restrictions. They can vary during work days and weekends. On-street parking may be allowed for goods vehicles, cars, and motorcycles.
Buss Rapid Transit, Light Rail Transit, and Subway
Bus rapid transit was first introduced in 1974 in Brazil. The goal is to minimize delays and waiting times and increase urban mobility. The system is also known as surface subway and is an affordable public transit solution. There are dedicated lanes and roads for buses so that passengers are transported according to schedule. The main benefits are improved efficiency, flexibility, less congestion, and affordability. The main features of BRT are platform-level boarding, busway alignment, and dedicated lanes. Platform-level boarding is a beneficial feature that offers easy access for baby strollers, children, disabled passengers, and wheelchairs. Buses have multiple doors that allow quick exit and entry. Passengers also benefit from large shelters, waiting areas, and quick and effective service. Buses usually operate with a frequency of 30 minutes during the day and 10 minutes at peak periods. LRT or light rail transit is one alternative to bus rapid transit. There are different rail transit modes and technologies. They differ based on factors such as floor height, train operator, type and size of the railcar, and others. One of the main benefits of LRT is the higher capacity compared to other means of transport. The subway is another option for city residents. By far, it has the greatest capacity, but it is more expensive to construct. It is also less expensive than driving a car considering the cost of fuel, licensing, taxes, insurance premiums, parking fees, and the cost of the vehicle itself. Other benefits include safety and convenience. This is an environmentally friendly way to travel and reduce harmful emissions.
Advantages of Using Public Transport
Public transport offers many advantages. The main benefits for cities and their residents include significant cost savings, improved health and safety, and energy independence. Studies show than riding the subway, train, or bus is much safer than riding a car.
Electric buses, trams, and trains are eco-friendly transport vehicles that help conserve non-renewable resources and minimize pollution and traffic noise. Some vehicles also run on ultra-low sulfur fuels that are cleaner than conventional fuels. Small hybrid buses are also used to minimize carbon dioxide emissions. Another option is to use buses running on natural gas.
Related Articles
Light Rail Transit, Bridge Links, and Other Features of Eco-cities
Eco-cities combine modern and innovative features such as solar panels, green roofs, bridge links, and others. They are also known as sustainable cities and the goal is to reduce waste, pollution, and greenhouse gas emissions. Sustainable communities, cities, and districts rely on local resources,...
Commuting to Work in Environmentally Conscious Ways
There are many ways to go green and get to work, from walking and using public transportation to bicycling and car pooling. This is a way to get exercise and help reduce journey times and traffic congestion. Walking and Car SharingObviously, walking is a green way to get to work if you live within...