House Cleaning Products with Non-toxic, Organic Ingredients
Download Audio Version
Eco house cleaning refers to methods that use organic or green detergents and formulas and no toxic chemicals.
Toxic vs. Green Products
The label of a product indicates whether there are toxic or dangerous compounds. Look for words such as caution, warning, danger, and poison. A label that has danger or poison on it shows that the product contains highly toxic substances that are dangerous to the environment. Ingesting a small amount can have fetal consequences, especially for children. The word caution indicates that the detergent or formula is toxic, but ingesting a few drops is not as dangerous. If the label says caution, the product is moderately toxic. There are also corrosive detergents that are either bases or acids. Examples include caustic soda, caustic potash, and ammonium hydroxide. They can damage exposed tissues and mucous membranes. Unlike toxic products, eco formulas contain no artificial dyes, fragrances, and toxic and synthetic chemicals. They come in lightweight and in many cases recycled packaging and are biodegradable. Green products are free of petroleum-based compounds, ammonia, chlorine, and other chemicals. There is a wide array of products available, including liquid dish soaps, surface liquid cleaners, stain removers, all-purpose products, and others. Stain removers, for example, are non-allergenic and biodegradable. According to manufacturers, they are safe to use because these products contain an oxygen-based agent. Still, it is important to check the label. Some studies have revealed that there are green formulas that include harsh chemicals. They contain petroleum and are not plant-sourced as advertised. Other products were found to contain glycol ethers that are toxic and can cause irritation, intoxication, anemia, and other problems. These compounds are found in cosmetics, perfumes, paints, and cleaners and increase the risk of kidney and liver problems. Green products, on the other hand, are safe alternatives that contain organic ingredients.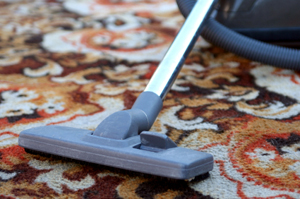 Eco Carpet Products
Conventional carpet cleaning formulas also include chemicals that leave residue and fumes. They are similar to the chemicals and compounds found in commercial dry cleaners and are dangerous for pets. Because they evaporate and escape into the air they can cause sneezing, congestion, nose and eye irritation, and other problems. Eco carpet cleaning uses green formulas that are offered in natural health and whole food stores. They do not release toxic fumes indoors and degrade safely. This means that they are safe for the environment. Green products are also free of volatile organic compounds. Basically, there are two types of products – steam and liquid. The latter are in the form of shampoos. There are many recipes for homemade carpet solutions as well. One way to make a non-toxic cleaner is to mix plant-based or oil-based soap with water. Soap-based products are not effective on tough stains such as blood and wine stains. One solution is to make a mixture of soap, water, and baking soda. Ventilation is very important to stop mildew and mold growth. Using steam is another solution for dirty carpets. This is called deep cleaning and uses high-pressure, hot vapor. One green formula for homeowners to try is a mixture of water and white vinegar. Pour the water and vinegar mix in the reservoir of the steam cleaner. Powdered ingredients are also used for carpet treatment. Baking soda is an effective product that eliminates excessive moisture and odor from fabrics. A mixture of cornstarch and baking soda can be used to remove oily and greasy stains. If the problem is smelly stains, one way to eliminate them is to add bay leaves and ground cloves. Pet odor neutralizers are effective in removing odors, but make sure that the product is eco-friendly.
Window Cleaning Options
There are different green window treatment products on the market. Formulas have non-toxic ingredients and are offered by different retailers. They contain naturally derived ingredients such as water, essential oils, mineral salts, emulsifiers, plant-based agents, and fruit acids. They are safe for indoor and outdoor use and reduce the risk for allergies. Ingredients in green formulas treat tough and greasy stains, soften water, help reduce streaking, and more. Retailers offer formulas with different fragrances and essential oils, including lavender, basil, rosemary, lemon, and others. An alternative to store-bought products is to try some recipes for homemade products. One recipe to try is a mix of water and white vinegar in equal amounts. Another option is to clean glass with baking soda sprinkled on a wet cloth. Use a soft, dry cloth to polish the windows after rinsing with water. Vinegar is one of the best and least expensive solutions, however. It is environmentally friendly and a safe alternative to harsh chemicals. Ammonia is as effective as vinegar, but it is soapier.
Benefits of Eco House Cleaning Products
These products are important for maintaining a healthy and safe workplace and home environment. They remove infectious agents, harmful microorganisms, dust mites, and allergens that cause respiratory problems, skin, and eye irritation. Green products offer a double fold advantage as they effectively remove dust and bacteria and improve air and water quality. Products that contain nitrogen and phosphorus, for example, reduce water quality. Volatile organic compounds also have adverse effects on the environment and contribute to pollution and smog formation. Green cleaning products use less energy and are characterized by low toxicity levels, recyclable packaging, and organic ingredients.
Related Articles
Green Janitorial Supplies for Toxic-free Workplace Environment
Janitorial cleaning supplies are intended for commercial and industrial properties and help keep the workplace safe and clean. There are many green products on the market, including floor cleaners and finishes, sprayer bottles, duty scrubs, floor squeegees, and others. Types of Green Janitorial...
Green Cleaning Products and Bio Formulas for Responsible Consumers and Businesses
Green cleaning products are ecologically friendly and contain no harmful and poisonous compounds that cause allergies and pollution. Many stores and online retailers feature environmentally friendly cleaning products and supplies that offer health benefits. The problem with conventional products is...
5 Tips to Recycle at Home and Save Valuable Resources
Recycling at home is a great way to reduce organic and other waste and show concern for the environment. There are simple solutions and recycling systems that can be installed in your house. Some people use dumpster-style bins and collect unbroken glass, plastics, cans, and papers. Others choose to...